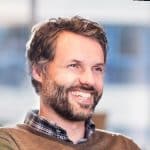 Newton, MA – The Renaissance Network is proud to announce the successful hire of Johnny Anderson, Head of Corporate Communication and Content Marketing, with their long-term client itslearning. A proven marketing innovator, Johnny joins itslearning with 15 years of experience developing dynamic brand and positioning strategies for a leading technology and banking company at the forefront of its industry.
In this highly visible and critical role, Johnny is responsible for defining and deploying the brand and communications strategy that will promote the itslearning story to external audiences and their go-to-market teams. He will manage a team tasked with developing corporate communications, product positioning and content marketing, while ensuring consistent delivery of itslearning's global brand across all media channels. Johnny will work closely with teams across itslearning and partner with global leaders to synthesize their compelling value proposition to establish itslearning as a global EdTech leader.
Before joining itslearning, Johnny successfully developed and managed one of Norway's most influential brands in the financial industry. Through significant phases of growth in market share and changes of ownerships, Skandiabanken managed to develop a consistent and clear brand and to be known as the bank with the most satisfied customers. As creative lead in marketing, innovation and digital business development, Johnny later led the rebrand of Skandiabanken ASA to Sbanken AS. As Head of Concept Development, he led the bank´s innovation unit and took an early and strong position in the open banking landscape, developing new value adding services in close collaboration with fintech partners. He also oversaw the banks LAB sprints, testing and launching of innovative new solutions in the bank's beta-platform. During his career, Johnny has driven sales growth, led trend-surveillance and headed up PR and media relations.
Johnny developed the foundation for his career through a Master of Philosophy, Media & Communications degree from the University of Bergen in Norway.
Company Information
itslearning is one of the leading global cloud-based Learning Management Systems for K-12 and Higher education. Since its launch, itslearning has grown and expanded throughout Europe, Asia, and the United States. Their mission is to make the world's best teaching and learning solutions for schools.