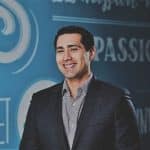 Newton, MA – The Renaissance Network is proud to announce the successful hire of Ryan Vasquez, Chief Revenue Officer with their long-term partner and client itslearning. A high energy, motivational leader who has consistently demonstrated success in a sales environment large and small throughout his career, Ryan began his new role as part of itslearning's executive team the first week of August.
In this new and critical leadership role, Ryan is tasked with bringing rigor and discipline to the sales process internally and vastly increasing the presence of itslearning in classrooms and school districts externally. A self-proclaimed "doer" and transformative agent of change, Ryan's sales expertise tailored with itslearning's renowned products are a perfect match to drive market share in the United States and throughout North America.
Before joining itslearning, Ryan held sales leadership roles of increasing responsibility with global technology leaders ADP and Oracle. Most recently, he held the position of Senior Vice President with Social Solutions (Private Equity backed by Vista) where he drove double digit, year-over-year growth. Throughout his career Ryan has been honored with 11 President's Clubs, a Region of the Year distinction and has been well known as an ambitious and effective sales leader.
Company Overview: itslearning is one of the leading global cloud-based Learning Management Systems for K-12. Since their launch, itslearning has grown and expanded throughout Europe, Asia, and the United States. Their mission is to make the world's best teaching and learning solutions for schools.