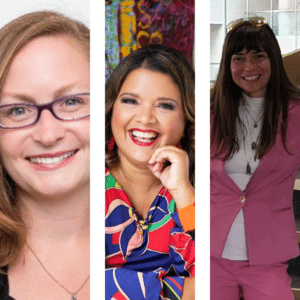 On behalf of their client the Wadhwani Foundation, The Renaissance Network is excited to announce the placements of Dr. Mara Woody, Dr. Maira Martelo, and Leah Moschella as Senior Directors of Partnerships for their United States initiative. The Wadhwani Foundation is a global non-profit on a mission to address the steadily rising poverty levels in the United States by providing 21st century employability skills to job-seeking students.
This inspirational team of community leaders will play a key role in accomplishing the Wadhwani Foundation's mission to provide opportunities for one million low-wage workers in the United States to transition to family-sustaining wage jobs over the next ten years. As Senior Directors of Partnerships, they will manage collaborations with education providers, employers, and public sector entities to achieve this goal of economic empowerment.
Dr. Mara Woody is highly skilled at creating and leveraging strategic partnerships. She has been instrumental in defining the future vision of postsecondary education for the State of Missouri, first as the Assistant Commissioner for the Department of Higher Education and then as the Assistant Commissioner for Postsecondary Policy. Mara has a Doctorate in Educational Leadership and Policy from Vanderbilt University and a Master of Science in Criminal Justice from Columbia College in Missouri where she also completed her Bachelor's degree.
Bringing deep experience in community partnerships, engagement, and mobilization, Dr. Maira Martelo is passionate about building bridges to brighter futures through education. She has done this most recently as the Chief Program Officer for Community Engagement Partners and prior to that in Director roles for the Jacksonville Public Education Fund. Maira has a Doctorate in Educational Leadership and Administration from the University of North Florida and a Masters in Communications from the Universidad Iberoamericana, Ciudad de Mexico and a Bachelor's degree in Communication and Media Studies from the Univesidad Autonoma de Occidente.
With more than 15 of years of experience in the nonprofit sector working at the intersection of education and workforce development, Leah Moschella is an innovator in college and career pathways. As Founder and Executive Director of Girls' Leadership, Organized Women, she led the mission of fostering opportunities for women of all ages to become empowered community leaders and active world citizens. Leah has a Master of Science in Human Services, Community Justice, Gender and Youth and a Master of Arts in Teaching, Secondary History as well as a Bachelor of Arts, Sociology and Women's Studies from Fordham University.
Company Overview
Founded in 2003 by Silicon Valley entrepreneur Dr. Romesh Wadhwani, today the Wadhwani Foundation is scaling impact in 20 countries across Asia, Africa, and Latin America and through its newest endeavor in the US. Its primary mission is to accelerate economic development by driving job creation through large-scale initiatives in entrepreneurship, small business growth, innovation, and skilling. In the US the foundation partners with community colleges, employers, training organizations, government agencies, funders, and other stakeholders to build vibrant, robust, and accessible education pathways.
To learn more about TRN's process and find out how we help organizations quickly meet hiring needs by providing a pool of skilled candidates, contact us today!