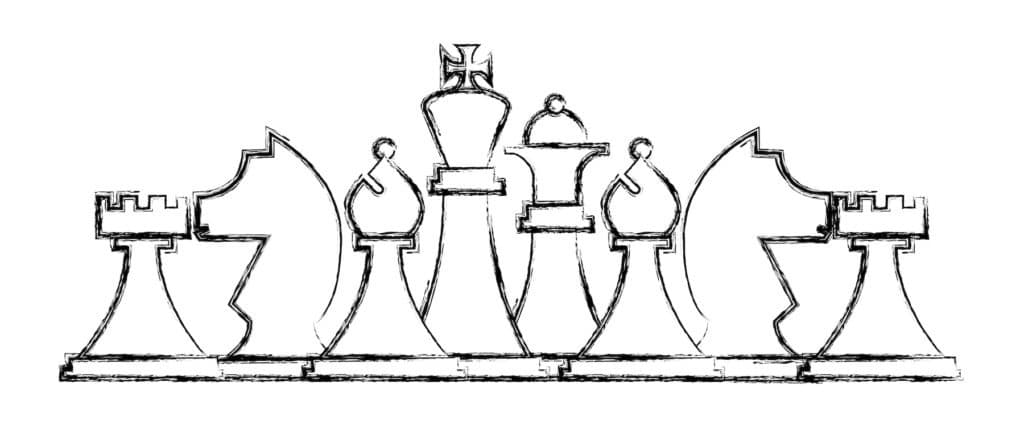 Change is not only occurring at a rapid pace, but at an unprecedented scale in EdTech. If leaders in EdTech learned anything from this past year, it's that change seems to be the only constant, with changes affecting classroom procedures, administration tasks, and even which applications were being used the most in the physical and virtual classroom.
At The Renaissance Network (TRN), we work very closely with various leadership teams. Leaders in fast-changing industry verticals need to be at their best to sustain their high growth rates. Leadership teams that don't practice the conditions below (1–5) put themselves at commercial risk, including losing customers and employees.
1. Identify a Compelling Reason to Believe
First and foremost, a great leadership team and business function best when there is a reason the business exists and something at the core of the business that will make it successful. Your company should have a "why." Why was your company created? Why is it essential to the world? Why should employees and people believe in what you do? Once you have established your why, you must make it relevant, ownable, repeatable, and impactful.
Relevant: will the fulfillment of your mission satisfy a current and enduring commercial and market need?
Ownable: does your company have specific attributes that ensure the mission is uniquely yours?
Repeatable: are the elements of your offering, processes, tools, or organization repeatable in the long term, ensuring your mission is sustainable for years to come?
Impactful: what greater purpose is realized and helped by succeeding with your "why"?
2. Develop Mutual Trust
Trust is an essential function in business, particularly with so much commercial activity being conducted remotely as of late. When employees and managers trust each other, they reap the benefits of working in an emotionally-safe environment where respect is at the core of how business functions in the workplace. Perhaps one of the greatest benefits of your leaders developing trust in the workplace is that it prevents turnover, which has overall long-term growth benefits for your organization.
Now the hard part: how do you, as leaders, establish a foundation of trust in the workplace? Utilize the following steps as a guide:
Be open to feedback and do your best to implement it. Operate in such a way that you provide your employees with relevant, respectful, and helpful feedback.
Be appreciative of the work your employees put in each day, week, and month. Find ways to celebrate your employee's accomplishments and let them know you appreciate the value they add to your team.
Be consistent in what you do, what you believe in, and how you manage your team. Do your very best to prevent bias from affecting the way you treat employees.
Be reliable; provide yourself as a resource to your employees, do what you promise, and make sure your team knows you can help them succeed in their roles.
3. Establish an Effective Management Rhythm & Operating Structure
Does your team operate under an effective rhythm, or does a lot of your work get lost in translation? Having a clearly defined structure will make the lives of your employees easier and provide clarity for yourself as you build your business.
Regularly hold effective meetings. What have you found works best for your team? Is it relevant to hold weekly, monthly, or perhaps quarterly leadership team meetings? How frequent are your one-on-ones with your employees? Does your team operate well with regularly-scheduled working sessions? What type of full company meetings produces the most effective results?
Define what success means to your team and your organization. Your employees may struggle to succeed if you do not lay clear expectations for how they can succeed. Part of defining success for your team members will involve individually meeting with them to see how they are performing and living up to the expectations of their role.
Establish transparent reporting and KPI objectives. What is the most effective way to report, and which team members are involved in that process? Likewise, what KPIs drive actual growth for your business? How can you communicate these KPIs with your team members?
4. Build Effective Communication
Good communication is key to a successful team. Modeling productive dialogue in the workplace increases collaboration, efficiency, and clarity between you and your employees and horizontally between each department of your organization. Much of the success in terms of communication lies in the manager's hands; the tone you set affects the way your entire team communicates with each other.
It is essential to follow a few simple rules of communication to be as effective as possible. Those rules include clear communication, reflective listening, and double-checking that no ambiguities are lying on the table. While effective communication on the part of the manager is important, creating an atmosphere that encourages your employees to speak to you, and therefore listening on your behalf, is equally as important.
According to a Baylor University study conducted during the COVID-19 pandemic, listening on the part of a manager was extremely important in successful communication while dealing with the unexpected changes from the pandemic. Additionally, effective communication means that you have reduced the likelihood of ambiguity within your conversation. While in meetings, one-on-ones with employees, and other workplace conversations, allow proper time for employees to ask questions. Additionally, set clear guidelines so that you and your employees understand the expectations of one another.
5. Make Sure Your Team is Aligned on Winning
Did you know that miscommunication in companies with over 100 employees costs at least $420,000 per year per company? Perhaps you were unaware that people who work in trusting environments tend to report 76% less stress, 106% increased energy at work, and 50% higher productivity than employees that work in less trusting environments?
Utilizing all of the above skills—belief, trust, structure, and communication—will help align your team with a winning mentality. At the end of the day, everyone with your organization has the desire to win. However, much of your success as a team comes from whether or not you build effective belief, trust, and structure and then clearly communicate to your entire team.
How to Use The Renaissance Network to Build a Great Team
At TRN, we are experts in how organizational design and key talent decisions can affect the success of businesses like your own. If you are struggling to find the right talent that will help drive success for your leadership team, we want to support your efforts to bring the right team members into your organization.
To learn more about TRN's process and find out how we help organizations quickly meet hiring needs by providing a pool of skilled candidates, contact us today!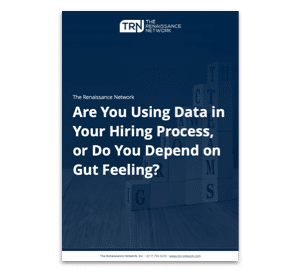 Download the 'Are You Using Data in Your Hiring Process, or Do You Depend on Gut Feeling?' playbook to stop hiring based solely on likeability, emotion, and perceived skills.
Download Playbook