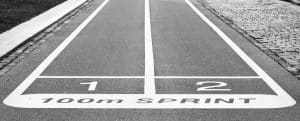 The Education market is exploding and companies are racing to find the best talent to bring their products and services to market. Many, however, are finding the talent war frustrating as there is a limited talent pool for professional sales and marketing talent in the education space.
Why is this?  Ed Tech is a relatively new market and the sales talent coming into it from publishing firms is not always the best solution. For today's technology-driven district buyers, salespeople must adopt a consultative approach and be able to add value on many fronts.  Therefore, when you need to scale quickly sometimes finding good, well-rounded "athletes" that have multiple skillsets is a better option from which to grow a team. Adding employees with multiple skills will provide a strong base to possibly add talent with more specific skill sets later on.
HERE ARE FIVE REASONS TO CONSIDER HIRING A WELL-ROUNDED "ATHLETE":
Taking professional sales talent from other industries and training them in Education can bring a fresh set of eyes to the process
Many other industries have a complex sales cycle that lends itself to having the same type of talent
Generally, a "good athlete" sales person can acclimate quickly to a new industry
Many other industries have a more aggressive mentality and ROI way of selling rather than selling on student achievement. Integrating this mindset into your current EdTech sales team can help accelerate results
You can dramatically increase your candidate pool and increase access to a larger quantity of great talent
One caveat to watch out for: the education sales cycle can be lengthy and has more seasonality to it than other industries.  Make sure you hire the best talent that can weather the storm of this lengthy process and someone who exhibits patience for this process.  Someone coming in and expecting quick sales may be discouraged.
Hiring candidates with wide-ranging talents from outside the education industry can often be a leap into the unknown. However, companies often fall into the trap of looking at a profile for education specifics and fail to look deeper at a candidate's entire skill set. This can result in a large percentage of potential talent being discarded from the hiring process.
Onboarding candidates from outside the education can strategically be a great way to diversify your talent pool, however, it requires companies to have clear objectives and a robust onboarding and training strategy. Organizations that achieve this will be able to access a great number of diverse and talented candidates.