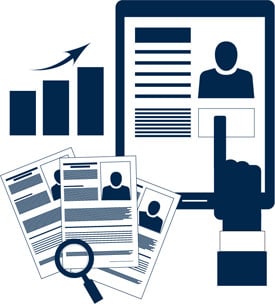 Data Supported Decision Making
There is a psychology that links behaviors and skillsets to job performance, our role as a partner is to use all available methods to uncover the behaviors and skillsets correlated to successful job performance. To ensure that TRN can provide the best candidates we use specific data points to assist in our evaluating process. Depending on the requirements of the search we will assess candidate behavior, performance against metrics and employment history.
Candidate Assessment
Our customized candidate assessment measures traits relating to personality, behavior, internal drive and cognitive ability. Each assessment is modified to our clients exact requirements, providing specific feedback on the traits most valued by an organization. TRN provides a comprehensive report on every candidate in our evaluation process. Each report provides a holistic summary of a candidate in graphic and written formats. The report also provides a detailed breakdown, including highlighted concerns and suggested questioning, creating a resource to assist organizations when interviewing final candidates.
Blind Reference Checks
The reference check process has become a diluted method of uncovering information on candidates. At TRN, we have seen the reference check process uncover valuable and hidden information about a candidate's past performances and abilities that otherwise would have gone untouched. By simply making this process "blind" or anonymous we have found a 35% increase in unqualified candidates who are not suitable for our partners, saving them from bad hires. By providing two multipage reports, coupled with performance data uncovered by our Talent Engagement team, TRN can provide a high level of accuracy, trust and transparency when presenting suitable candidates to our partners.