Which compensation packages are attracting the best sales talent? And how is EdTech tracking sales performance? 
Before engaging in any search, The Renaissance Network begins by researching relevant compensation levels, quotas and performance metrics. Initial hiring research plays an important role in reducing the risk of mishiring or pivoting a search.
At the start of the year, TRN set out to understand the true state of the US EdTech talent market. Our goal was to find answers to the questions often encountered by hiring managers regarding sales compensation and performance. We anonymously surveyed sales candidates from our database of 120,000 professionals with leadership and individual contributor questions.
Initial findings from the report found that, even though EdTech outperforms other industries and the national average regarding gender pay equality, there's still a difference between male and female sales compensation. In addition, EdTech sales appear to be struggling to attract new talent into the industry, while 63% of those already in the business are reporting increases in quota of over 10%.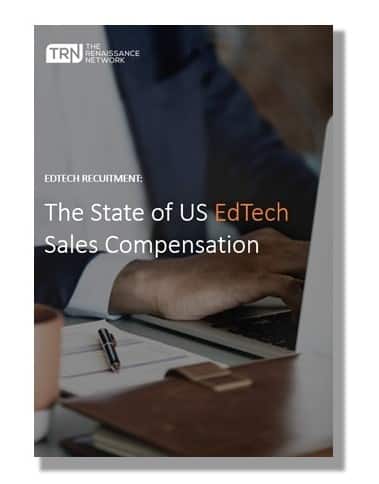 We are currently gathering more data and will be publishing a full report in the coming month. If you would like to participate and receive the full report click here.