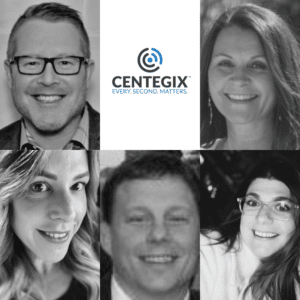 On behalf of their client CENTEGIX, The Renaissance Network is excited to announce the placements of Heather Connelly, Laura McGee, Carly Smith, and Matt Young as Regional Vice Presidents of District Partnerships and Otto Zeman as Sales Engineer. CENTEGIX innovates technology to save and enrich lives. Their CrisisAlert system empowers teachers and administrators to act and respond with confidence in every situation, from the everyday to the extreme.
The team of inspiring and motivated Regional Vice Presidents of District Partnerships will lead outside sales for CENTEGIX in four distinct markets and answer the high demand for safety and security in the K-12 education space. The Sales Engineer position will provide impactful technical presentations and support to existing and prospective customers.
With 25+ years of experience in the K-12 and Higher Education industries, Heather Connelly is a dynamic digital education sales and marketing leader. In addition to a recent sales management career at Navigate360, Heather is the co-founder of All of Me Journals, a resource to help young girls navigate the tween years. Heather has an M.A. in Counseling Psychology from Saint Martin's University and a B.A. in Society and Justice from the University of Washington. She will drive sales efforts as RVP Of District Partnerships in Northern Texas, Louisiana, Oklahoma, and Arkansas.
Laura brings her expertise in teacher training, e-learning, EdTech, and technology integration to her role as RVP of District Partnerships in the West. She has over 15 years of experience in educational sales and consulting, most recently as a successful sales professional at Imagine Learning. Prior to her career in business development, Laura was an elementary school teacher. She has a B.A. in Liberal Studies from the University of LaVerne and earned her Teacher Credentials from Chapman University.
Carly has diverse experience in the education space, which she brings to her position as RVP of District Partnerships for South Texas, New Mexico, and Arizona. In her most recent role as an Education Solutions Executive for Frontline Education, she sold and delivered SaaS and technology solutions to the K-12 market. Prior to working in EdTech, Carly was a Special Education Teacher and Intervention Specialist. She has an M.A. in Teaching/Special Education from Western Carolina University and a B.A. in Psychology from the University of West Florida.
Bringing 15+ years of strategic sales planning and new business development experience in the K-12 market, Matt will be the RVP of District Partnerships for the Midwest Region. Skilled in highly complex sales processes, he has successful enterprise sales experience in the education industry, including a previous National Programs Manager role with Imagine Learning. Matt is a graduate of the Seidman College of Business at Grand Valley State University and has a BBA in Marketing.
Otto Zeman will be joining CENTEGIX as a Sales Engineer. Otto brings over 15 years of expertise in the educational products and services market. He is adept at building strong, meaningful relationships and providing high-quality solutions for the challenges educators face in an ever-changing market. Otto has a BASc in Psychology from Chicago State University.
Company Overview
CENTEGIX was founded in 2016 by Daniel Dooley on the idea that technology can create safer, more secure learning environments. Recognizing that incidents are going to happen and an effective solution for an incident response was lacking, led to the development of the CrisisAlert platform. Through the design of an Internet of Things network powered by a private security network CENTEGIX delivers a SaaS cloud solution that provides coverage and location in practice down to 10 feet. The result is real-time crisis management when every second matters. Known not only as an innovator of technology but also as a thought leader in security for public spaces, CENTEGIX is expanding into other verticals, including healthcare, hospitality, government, and the corporate marketplace.
To learn more about TRN's process and find out how we help organizations quickly meet hiring needs by providing a pool of skilled candidates, contact us today!