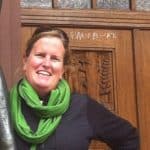 Newton, MA – The Renaissance Network is pleased to announce that Katie Hall has joined their partner Teacher Created Materials as Regional Vice President of Sales, Northeast. Katie is a mission driven, results oriented leader with over 20 years of experience growing sales for leading US based education content organizations. Katie began her new role as part of Teacher Created Material's national sales organization in September.
In this critical sales management role, Katie is charged with leading and developing high performance teams and sales strategies focused on expanding the use of impactful digital and print educational curriculum products in PreK-12 school districts across nine states in the Northeastern US. She will build off a 10+ year track record at Cengage, where she grew and improved their digital product business at all levels through leadership roles in sales, marketing and product development. Katie honed her skills through an MBA at Penn State and a BA at Tufts University.
Company Overview
Teacher Created Materials (TCM) is a leading educational publisher of supplementary PreK-12 educational materials for all curriculum areas – language arts, social studies, mathematics, science, technology, and professional resources. For over 40 years, TCM has developed innovative and imaginative educational materials and services for students used by schools across all 50 states and in over 80 countries. Everything they do is created by teachers for teachers and students to make teaching more effective and learning more fun. The TCM vision is to create a world in which children love to learn.